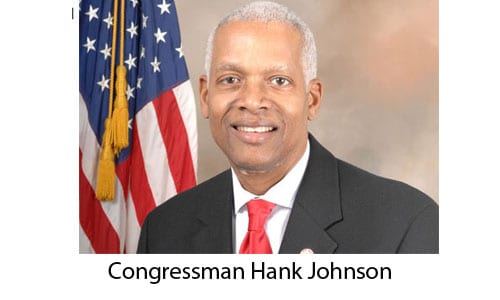 CONYERS, GA –Congressman Hank Johnson (GA-04), announced that the Conyers Police Department and the Rockdale County Sheriff's Department are receiving federal grants to help boost their community policing efforts.
The Conyers Police Department is receiving $132,000 and the Rockdale Sheriff's Department is receiving $125,000 from the U.S. Department of Justice's Office of Community Oriented Policing Services or COPS.
The Conyers PD will use the grant funds to help establish crisis intervention teams, while the Rockdale Sheriff's Department will use its funds for microgrants to promote positive interactions and outcomes for youths via the department's Youth Engagement Program.
"I am grateful that the USDOJ/COPS – Youth Engagement grant was awarded to Rockdale County Sheriff's Office. This is timely because I have recently formed a Sheriff's Activities League (SAL)," said Rockdale County Sheriff Eric Levett. "Grant funding will assist with SAL programs, Rockdale School Resource Officer (SRO) programs, along with other youth focused training and community-oriented policing (COPS) initiatives. In addition, grant funded programs will enable the RCSO with continuing to build trust between deputies and youth."
During his tenure in Congress, Rep. Johnson has to prevent massive cuts to the COPS Hiring Program (CHP), which is designed to reduce crime and advance public safety through community policing by providing direct support to state, local, and tribal law enforcement agencies nationwide.
Since 1995, the COPS program has invested more than $258.6 million in Georgia law enforcement agencies, which was used to hire more than 3,000 officers and provide more than $50 million in technology upgrades.
"One thing many of us can agree on is that the relationship between law enforcement and the communities they serve is broken, said Johnson. "The COPS Grant Program is a cornerstone of the federal effort to repair that divide. I'm pleased that the Conyers PD and Rockdale Sheriff's Office are receiving these grants for this purpose."
This funding is part of 185 awards distributed throughout the nation totaling more than $33 million in funding to advance the practice of community policing in law enforcement.
The DOJ's Community Policing Development (CPD) program funds are used to develop the capacity of law enforcement to implement community policing by providing guidance on promising practices through the development and testing of innovative strategies; building knowledge about effective practices and outcomes; and supporting new, creative approaches to preventing crime and promoting safe communities.
For more, visit the Department of Justice COPS website.